by Ron Teeguarden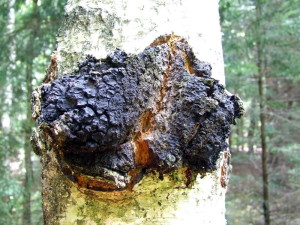 Discover Chaga
Siberia's contribution to health and longevity is Chaga. Chaga is a herb that is rapidly developing a reputation as one of the great tonic herbs in the world. It is a woody mushroom that grows in subarctic forests around the world, though some areas are well known for producing the most sublime Chaga.
Chaga is Siberia's greatest contribution to Health & Longevity.
I became interested in it a few years ago when it caught my attention during herbal expeditions in northern China. Then two years ago I visited the Shaolin Temple and met with the head of the medical wing of the great temple. On the altar in his office were two large woody mushrooms – a beautiful wild Reishi and a magnificent Chaga. At that moment I decided I needed to find out all about this herb. I learned that summer that Chaga is a powerful protective herb consumed to preserve youth and radiant health "Radiant health" is defined in Asia as "health beyond danger," a concept at the heart of Shaolin practice.
I was able to purchase about 10 kg of Chaga from locals in the Song Mountain area where the Shaolin Temple is nestled. I used it as an ingredient in my first run of "22 Reishis" Drops. There are said to be 21 varieties of Reishi (or very closely related mushrooms) growing in Asia. I was making "21 Reishis" that summer and was travelling China collecting the wild mushrooms. After my discussion with the head medical monk about Chaga, I just could not resist including it in the formula.
Buying Chaga
I soon learned that the ultimate Chaga is believed to come from Siberia, from vast subarctic birch forests. I spent some time doing my research and ultimately got my Siberian source, who led me to a nutraceutical factory that was specifically expert in extracting Siberian Chaga. We produced several sample runs, but we did not go into full production until our experiments generated the most potent extract known to be possible. This extraction uses the entire Chaga mushroom. The mushrooms must be fully mature (over 20 years of age) and all of them came from the extremely remote, pristine arctic forests. Using a double extraction method (both water and alcohol) and extracting the Chaga at the precise temperature for each of the solvents (water and alcohol), we have produced an extremely potent full spectrum extract.
High Demand
We launched with a small run last winter and the word spread very quickly. We sold out within a week. We have just received our second production run of this awesome extract of this truly world class tonic herb. It is safe and potent suitable for just about anybody. We are producing it as a powder, and it is encapsulated. We have several hundred bottles available. This is a perfect time to discover a new herb that some legitimate experts are calling the greatest herb on earth. I have added it to my personal repertoire and now consume 3 or 4 capsules a day along with the rest of my super tonic herbs and formulations. Some days, when I expect significant stress or very hard work, I take as many as ten capsules. I believe it is energizing and an excellent Shen tonic. I am certain it is a protector in the same league as Reishi mushroom and Astragalus root, which is certainly rarified company
Read all about this great herb and check out the details of our great new Dragon Herbs product.