Qigong, an essential component of Traditional Chinese Medicine
Qigong for health and longevity has a documented history that goes back approximately 2,500 years. Chinese archaeologists and historians have even found references to qigong-like techniques that go back even further to at least five thousand years. It's clear the history of qigong is extensive and it has been used as a healing modality in traditional Chinese medicine for mileniums. Qigong is the art and science of using breathing techniques, gentle movement, and meditation to cleanse, strengthen, and circulate the life energy (qi). Qigong practice leads to better health and vitality and a tranquil state of mind.
Qigong is an essential component of Traditional Chinese Medicine and a powerful system of healing.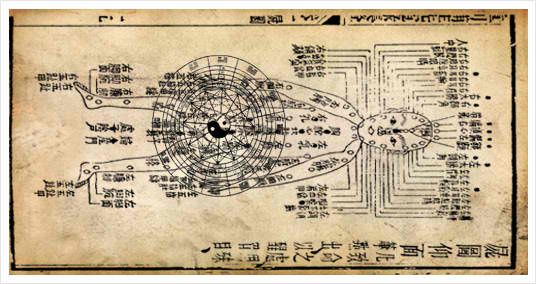 Because qigong includes both dynamic and gentle techniques that can be practiced from standing, seated, and supine postures, it is suitable for both the young and the old. Practices can be tailored to individual needs making it an ideal aid to recovery from illness or injury. Here is a link to some mediation and qigong residential retreats that are both affordable and in stunning locations.
As a form of complementary medicine qigong works well with other forms of therapy but should not be substituted for necessary treatment by a physician.
The two major areas of qigong for health and healing are Healing qigong or Yi Going and external qi healing or Wai Qi Zhi Liao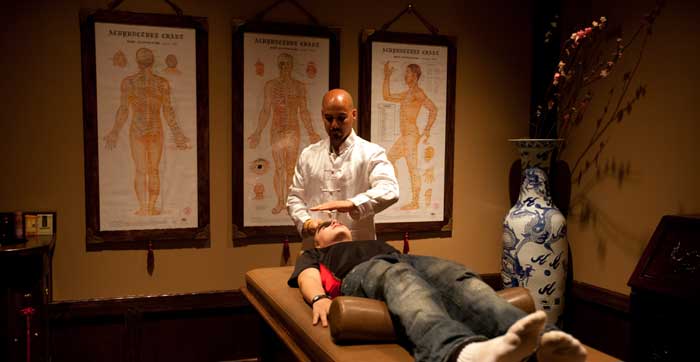 Qigong for health and longevity
Qigong for health and longevity involves two major areas of application: Healing Qigong (Yi Gong) and Active Qigong Exercises.
Healing Qigong (Yi Gong)
Healing Qigong (sometimes translated "Medical Qigong") is the preventive and self-healing aspect of Chinese medicine. We are all exposed to stress. Qigong teaches us how to control our reactions to stress so that life events do not cause such symptoms as high blood pressure, frustration, or anxiety. Healthy people practice qigong to become super-healthy. Healers use qigong to prevent "healer burn-out" and to maintain a positive presence.
External Qi Healing (Wai Qi Zhi Liao). Qigong includes a sophisticated system of health assessment and non-contact treatment called External Qi Healing (EQH). The healer learns to tap into a well of healing energy in nature and "funnel" it through his or her body. Unlike some purely intuitive systems, EQH includes exercises that increase sensitivity to energy fields and efficacy of treatment. The more you practice External Qi Healing exercises and meditations, the more effective your healing treatment. External Qi Healing techniques may be used as a stand alone form of wellness treatment or may be combined with qigong massage, acupuncture, Therapeutic Touch, osteopathy, or any other form of body-work. Because treatment is generally performed at a distance from the body, EQH does not violate psychotherapists' professional ethics (which do not allow touching the patient) and is thus an ideal adjunct to body-centered psychotherapy.
Active Healing Qigong Exercises

In order to get the maximum health benefits from qigong self practice, moving or active qigong is believed to be more important than sitting or still meditation. This is because moving exercises increase qi circulation in specific organs and so restore their normal functions. Active Qigong is for maintaining health and longevity and curing illnesses caused by qi imbalances.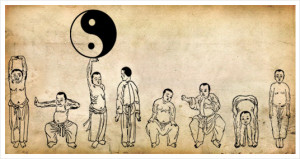 If you're mostly interested in qigong for health and longevity, then qigong exercises derived from the Bone/ Marrow Washing Classics are typical qigong sets famous for being able to bestow strong and healthy bodies on dedicated practitioners. Qigong exercises derived from the Muscle/ Tendon Changing Classics (Yi Jin Jing) however, are said not only good for health but also have the added benefit of being able to increase the power of martial arts techniques.
It is said Da Mo imparted these works to the Shaolin priests because he believed they where not strong enough for the rigorous demands of training for enlightenment.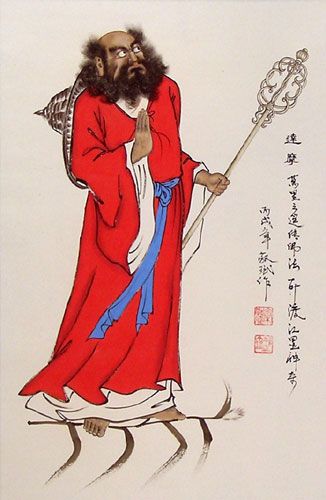 Both these books are often attributed to Da Mo the famous Indian Buddhist priest who brought Zen or Chan Buddhism to China, however it is more likely they were written and re-written by a number of different scholars and schools of thought before and after the fabled Da Mo. Nevertheless if we follow the traditional Shaolin view it is said Da Mo imparted these works to the Shaolin priests because he believed they where not strong enough for the rigorous demands of training for enlightenment.
In truth a combination of exercises derived from the brain washing and tendon changing classic are likely to be the most beneficial depending on your purpose and existing age and health. The four main health qigong exercises recognised and promoted by the Chinese Health Qigong Association are as follows.  
Muscle-Tendon Change Classic (Yì Jīn Jīng 易筋经).
Five Animals (Wu Qin Xi 五禽戲).
Six Healing Sounds (Liu Zi Jue 六字訣).
Eight Pieces of Brocade (Ba Duan Jin 八段錦).
In 2010, the Chinese Health Qigong Association officially recognized five additional health qigong forms:
Tai Chi Yang Sheng Zhang (太极养生杖): a tai chi form from the stick tradition.
Shi Er Duan Jin (十二段锦): seated exercises to strengthen the neck, shoulders, waist, and legs.
Daoyin Yang Sheng Gong Shi Er Fa (导引养生功十二法): 12 routines from Daoyin tradition of guiding and pulling qi.
Mawangdui Daoyin (马王堆导引术): guiding qi along the meridians with synchronous movement and awareness.
Da Wu (大舞): choreographed exercises to lubricate joints and guide qi.
Below is an official video from the Chinese Health Qigong Association providing an introduction to Qigong as a health exercise.
Learn more about mediation and qigong retreats in China and Thailand.